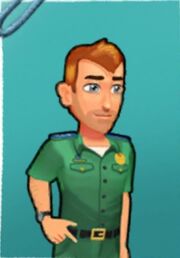 Homeplace: Little Creek Hospital
Born: February 3rd, 1978
Date of death: August 13th, 2016 (aged 38)
Place of death: Ambulance crash explosion
Years active: 1978 - 2016
Gender: Male
Occupation: Ambulance Driver
Leslie Cheung (1956-2003)
Joe Albright is a former actor, and ambulance driver in Heart's Medicine: Time to Heal. He is optimistic with Sophia Gomez.
Joe was born in the hospital.
Joe was taking care of patients from 21 - 30 in Heart's Medicine. In the intro, Joe was crashed into the ground at the river. In the crash site, Joe was given something to Allison Heart. When Ambulance has exploded, Joe was officially killed, and Allison was very sad. Joe was died in August 13th, 2016, and about 3 months of Joe's death, Tools of the Star were banished in space.
Favorite characters/Wikiwand
The Giver: Fiona, Chief Elder, The Giver

Zootopia (疯狂动物城): Lt. Judy Hopps, Nick Wilde, Dr. Madge Honey Badger, Mrs. Dharma Armadillo

The Water Horse: Legend of the Deep: Angus MacMarrow

Ralph breaks the Internet: Queen Elsa of Arendelle, Princess Anna, Rapunzel Fitzherbert, Cinderella, Snow White/Margaretha von Waldeck, Ariel, Belle, Jasmine, Tiana, Moana, Aurora, Fa Mulan, Merida, Pocahontas

Wreck-it Ralph: Vanellope von Schweetz, King Candy, Taffyta Muttonfudge, Candlehead, Sergeant Calhoun, Fix-it Felix, Jr, Rancis Fluggerbutter, Jubileena Bing-Bing, Crumbelina DiCaramello, Adorabeezle Winterpop, Gloyd Orangeboar, Minty Zaki, Minty Sakura, Snowanna Rainbeau, Swizzle Malarkey.

Frozen: Princess Anna, Elsa, the Snow Queen, Kristoff Bjorgman, Prince Hans, Olaf

Mr. Peabody and Sherman: Mr. Peabody, Penny Peterson

Despicable Me: Lucy Wilde, Felonius Gru, Dr. Nefario, Eduardo "El Macho" Perez, Balthazar Bratt Dru Gru, Margo Gru, Edith Gru Agnes Gru, Antonio Perez

Minions: Scarlet Overkill/Herb Overkill

Rio: Blu, Jewel, Eva, Linda, Tulio, Nigel, Pedro, Nico

Epic: Mary Katherine / Leafmen

Beauty and the Beast: Princess Belle

Tangled: Rapunzel Fitzherbert, Eugene Fitzherbert/Flynn Rider

The Princess and the Frog: Princess Tiana

Aladdin: Princess Jasmine

Big Hero 6: Hiro Hamanda, Baymax, GoGo Tomago, Honey Lemon

Inside Out: Joy, Riley Andersen, Sadness, Disgust, Anger, Riley Andersen

Toy Story: Bonnie Anderson, Woody, Buzz Lightyear, Jessie, Hamm, Mr. Potato Head, Mrs. Potato Head, Rex, Slinky Dog, Barbie, Ken

Home: Oh, Gratuity "Tip" Tucci, Lucy Tucci

Moana: (character)

Sahara: Eva, Ajar, Gary

Angela Napoli, Jenny Garcia, Virginia Hills, Amber Jackson

Angela Napoli, Jenny Garcia, Amber Jackson, Virginia Hills, Yum-mee, Sally, Cindy, Peter
Become Truly
Truly, the Announcer; Eric, Truly's boyfriend; Victoria from Alabama, USA; Lori, from New York (same as Angela)
Fabulous Angela, Heart's Medicine, Delicious Emily, Forsaken Sword Reborn, Chicken Invaders/Minecraft Stars, Adorable Girlfriends/Of The Star, Tools of the Star
Angela Napoli, Victoria, Emily O'Malley, Jenny Garcia, Amber "Kitty" Jackson, Virginia Hills, Evelyn Napoli, Edward Napoli, Fran Handford
Emily O'Malley, Francois Truffaut, Patrick O'Malley, Angela Napoli, Eduardo Napoli, Evelyn Napoli, Antonio Napoli, Brigid Duffy, Jimmy, Paige O'Malley, Kate O'Malley
Billy Beauford, Billy Beauford Jr., Aaron Mahoney, Marissa Mahoney, Enid Templeton, Earnest Templeton
Heart's Medicine
Daniel Summers, Connor McCoy, Ruth Phelps, Allison Heart, Emily O'Malley, John Summer, Chance Foley, Robin Fisher, David Quinn, Jenny Pope, Joe Albright, Sophia Gomez, Michael Owen, Mason Hamilton, Lisa Asher
Mary Vanderworth, Emily O'Malley
Dr. Amy Cares, Emily O'Malley, Paige O'Malley
Cathy Bradford, Emily O'Malley, Paige O'Malley
Sally Milligan, Francois Truffaut, Emily O'Malley, Patrick O'Malley, Paige O'Malley, Angela Napoli, Allison Heart, Evelyn Napoli, Eduardo Napoli, Jenny Garcia
Amber's Airline
Amber's Airline: High Hopes
Amber Hope
Amy Rose, Knuckles the Echidna, Miles "Tails" Prower
Actors/Actresses
趙薇 (Vicki Zhao Wei), 杨幂 (Mini Yang Mi), 林心如 (Ruby Lin Xinru), 周迅 (Zhou Xun), 金莎 (Kym Jin Sha), 陳數 (Chen Shu) , 安以轩 (Ady An), 林依晨 (Ariel Lin Yi-Chen), 范冰冰 (Fan Bing Bing), Twins (钟欣桐 (鍾欣潼 Gillian Chung Yan Tung) (aka 阿嬌), 蔡卓妍 (Charlene Choi Cheuk-Yin) (aka 阿Sa), 鍾嘉欣, 王菲 (Faye Wong), 陳慧琳 (Kelly Chen Wai-lam), 蔡依林 (Jolin Tsai Yi-Lin), 黄圣依 (Eva Huang Sheng Yi), 章子怡 (Zhang Ziyi), 陳喬恩 (Joe Chen Qiao En), 姚晨 (Yao Chen), 陳妍希 (Michelle Chen), 陳意涵 (Ivy Chen) 鄧紫棋 (Gloria Tang), S.H.E (Selina (任家萱), Hebe (田馥甄), Ella (陳嘉樺)), 舒淇 (Shu Qi), 王心凌 (Cyndi Wang Xin-ling) 唐嫣 (Tiffany Tang), Angelababy (杨颖/Angela Yeung), 林志玲 (Lin Chi-ling), 陳法拉 (Fala Chen), 安心亚 (Amber An Xinya), 周麗淇 (Niki Chow), 刘庭羽 (CiCi Liu Tingyu), 罗霖 (Candy Lo Lam), (Peter Ho, Julian Cheung, So Ji-sub, Alec Su, Leo Ku Kui Kei, Wallace Huo
Fabulous, the World Hero, Goddess, the Greatest Hero, Solarus, the Galaxy Star, Silkrus, the Touching Star, Forestrus, the Tree Star, Darkness, the Haunted Hero, Mythrus, the Sword Star, Ferocious, the Flaming Star, Skyprus, the Pilot Star, Archerus, the Flaming Hero, Angela Napoli's Infinity Bow, Ironmanius, the Strip Star, Terrarius, the Earth Star, Cropnalus, the Farming Star, Fishermanius, the Fishing Star, Angelius, the Heavenly Star, Leafimanius, the Leaf Star, Flamminus, the Fiery Star, Flippers, the Diving Star, Frostrus, the Magic Star, Leggings, the Racer Star, Taffyrus, the Sweetest Star, Strawcap, the Vision Star, Boostrus, the Rider Star, Defendrus, the Minion Star
GLaDOS, Wheatley, Cave Johnson, Turrets, Defective Turrets, Caroline, Personality Cores
Playable characters
Big Chicken, Unindentified Chicken Object, Mother Hen-ship, Sweater Chicken, Mysterious Ship, The Yolk-Star, Super Chicken, Giant Robotic Space Crab, Infinity Chickens, Planetary Egg City, The Alien Mothership, Apple Core, The Iron Chef, Egg Cannon, CK-01 Henterprise, Military Chicken, Party Chicken, Jellyfish Chick, The Henperor's Apprentice, Heart of Darkness, Ice Golem Chicken, Hen House, CK-02 Event Horizon
Weapons
Ion Blaster, Neutron Gun, Laser Cannon, Vulcan Chaingun, Lightning Fryer, Plasma Rifle, Utensil Poker, Boron Railgun, Photon Swarm, Positron Stream, Hypergun, Riddler, Corn Shotgun
Highscores
Revenge of the Yolk, Ultimate Omelette, Cluck of the Dark Side
Careers
Revenge of the Yolk, Cluck of the Dark Side
Deadliest Players
Revenge of the Yolk, Cluck of the Dark Side
Doraemon