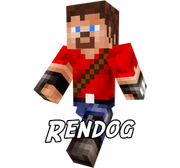 Homeplace: South Africa, London
Born: around late 20th century
Activity: Active
Years active: 1970s - present
ReNDoG is an actor in the Minecraft and HermitCraft series.
Pack Timeline
Edit
Fido, Jock and Rorschach! S2E6
Nugget
Pearl
Tool Timeline
Edit
S2E1 - A Fang is Born!
S2E7 - Rambow!
S2E11 - Terra!
S2E87 - Claw's Performance Review!
Paw
Bark
S4E8 - Lost Terra, Fang, Rambo (Rambow), Claw, and Paw
S4E74 - Bark was melted in Lava.
S4E78 - Cyberus, the World Star!
S4E81 - My Sacrifice - Endergods made Argus, the Blade Star
S4E82 - The Molecity Lumberyard - ReNDoG saved "Argus, The Blade Star"
S4E91 - New Adventures Ahead - Ortheus, The Fire Star found.
S4E100 - Molehole Castle and Tools are now Guaranteed by Molemart Inc. Board of Directors.
S5E22 - Terra Reborn!
Rambow II
Letters to ReNDoG
Edit
June 8th, 2016: Banishment Order
Edit
For the attention of (ex) Mayor of Molecity, ReNDoG.
By order of a referendum by the citizens of Molecity, Molemart Inc. regrets to inform your tht, as per section 4.C of the Facepalm Prevention Act, you are banished from Molecity until further notice.
In an unanimous vote by the citizens of the Capital, Molemart Inc. deems you no longer fit to stand office for the following offenses:
Uacceptable number of facepalms during your four year term in office
Unacceptable number of unfinished projects
Losing all your gear in an ocean monument like a Noob
Still not have gone to the freaking End!!
You are herewidth banished to live as a Hermit beneath the bridges of the Jungle Railway Line until further notice.
We regretfully must also inform you that as per the6xth amendment of the Constitution of Molecity, you have the right to a free and fair trial before the people to prove you are once again fit to rule.
Once Molecity Council deems you ready for trial, you will be summoned forthwith.
Regretfully yours (not really),
Molemart Incorporated, Board of Directors.
November 19th, 2016: We need you!!
Edit
To former Mayor ReNDoG,
Word of your heroic adventures across the lands has spread far and wide!
Villages you have visited have sent messenger pigeons to the capital of Molecity speaking of your adventures and discovery of a Mesa biome.
Your bravery and kind protection of villages far away have had a profound... affect... on the citizens of Molecity, who have taken to getting busy getting busy day and night!
I have spoken to the Molecity Council and the Molemart board, and I have news!
It has been agreed that - based on your recent and incredible progress towards becoming less of a noob - you have been commissioned to construct a Nursery of Molecity to handle sudden influx of new citizens!
Make haste Sire!
~ Griswold, Blacksmith.
Favorite characters/Wikiwand
The Giver: Fiona, Chief Elder, The Giver

Zootopia (疯狂动物城): Lt. Judy Hopps, Nick Wilde, Dr. Madge Honey Badger, Mrs. Dharma Armadillo

The Water Horse: Legend of the Deep: Angus MacMarrow

Ralph breaks the Internet: Elsa Frost (aka Queen of Arendelle), Princess Anna, Rapunzel Fitzherbert, Cinderella/Mary Beth Ella Gertrude, Snow White/Margaretha von Waldeck, Ariel, Belle, Jasmine, Tiana, Moana, Aurora, Fa Mulan, Merida, Pocahontas, Shank, Yesss, Spamley, Arthur the Insecurity Virus

Wreck-it Ralph: Vanellope von Schweetz, King Candy, Taffyta Muttonfudge, Candlehead, Sergeant Tamora Jean Calhoun, Fix-it Felix, Jr, Rancis Fluggerbutter, Jubileena Bing-Bing, Crumbelina DiCaramello, Adorabeezle Winterpop, Gloyd Orangeboar, Minty Zaki, Minty Sakura, Snowanna Rainbeau, Swizzle Malarkey.

Frozen series: Princess Anna, Elsa Frost (aka Snow Queen of Arendelle), Kristoff Bjorgman, Prince Hans Westergaard, Olaf, Jack Frost, Jelsa Frost.

Rise of the Guardians: Jack Frost

Mr. Peabody and Sherman: Mr. Peabody, Penny Peterson

Despicable Me series: Lucy Wilde, Felonius Gru, Dr. Nefario, Eduardo "El Macho" Perez, Balthazar Bratt Dru Gru, Margo Gru, Edith Gru Agnes Gru, Antonio Perez

Minions: Scarlet Overkill/Herb Overkill

Rio series: Blu (Rio), Jewel, Eva (Rio), Linda, Tulio, Nigel, Pedro, Nico

Epic: Mary Katherine , Queen Tara, Nod, Ronin

Beauty and the Beast: Princess Belle

Tangled: Rapunzel Fitzherbert, Eugene Fitzherbert/Flynn Rider

The Princess and the Frog: Princess Tiana, Prince Naveen of Maldonia

Aladdin: Princess Jasmine

Big Hero 6: Hiro Hamanda, Baymax, GoGo Tomago, Honey Lemon

Inside Out: Joy, Riley Andersen, Sadness, Disgust, Anger, Riley Andersen

Toy Story: Bonnie Anderson, Woody Pride, Buzz Lightyear, Jessie, Hamm, Mr. Potato Head, Mrs. Potato Head, Rex, Slinky Dog, Barbie, Ken

Home: Oh, Gratuity "Tip" Tucci, Lucy Tucci

Moana: (character)

Sahara: Eva, Ajar, Gary
Looney Tunes and Merrie Melodies series
Bugs Bunny, Lola Bunny, Road Runner, Daddy Duck, Porky Pig
Angela Napoli, Jenny Garcia, Virginia Hills, Amber Jackson
Angela Napoli, Jenny Garcia, Amber Jackson, Virginia Hills, Yum-mee, Sally, Cindy, Peter
Become Truly
Truly, the Announcer; Eric, Truly's boyfriend; Victoria from Alabama, USA; Lori, from New York (same as Angela)
Fabulous Angela, Heart's Medicine, Delicious Emily, Forsaken Sword Reborn, Chicken Invaders/Minecraft Stars, Adorable Girlfriends/Of The Star, Tools of the Star
Angela Napoli, Victoria, Emily O'Malley, Jenny Garcia, Amber "Kitty" Jackson, Virginia Hills, Janet Morgan, Evelyn Napoli, Edward Napoli, Fran Handford
Emily O'Malley, Francois Truffaut, Patrick O'Malley, Angela Napoli, Eduardo Napoli, Evelyn Napoli, Antonio Napoli, Brigid Duffy, Jimmy, Paige O'Malley, Kate O'Malley
Reverend Baylor, Flannery, Gillon, Desmond, Ashling
Billy Beauford, Billy Beauford Jr., Aaron Mahoney, Marissa Mahoney, Enid Templeton, Earnest Templeton
Heart's Medicine
Daniel Summers, Connor McCoy, Ruth Phelps, Allison Heart, Emily O'Malley, John Summer, Chance Foley, Robin Fisher, David Quinn, Jenny Pope, Joe Albright, Sophia Gomez, Michael Owen, Mason Hamilton, Lisa Asher
Maternity/Pregnancy Ward
Mary Vanderworth, Emily O'Malley
Dr. Amy Cares, Emily O'Malley, Paige O'Malley, Lisa Fox, Crystal Upton
Cathy Bradford, Emily O'Malley, Paige O'Malley
Sally Milligan, Francois Truffaut, Emily O'Malley, Patrick O'Malley, Paige O'Malley, Angela Napoli, Allison Heart, Evelyn Napoli, Eduardo Napoli, Jenny Garcia
Amber's Airline
Amber's Airline: High Hopes
Amber Hope
Amy Rose, Knuckles the Echidna, Miles "Tails" Prower
Actors/Actresses
趙薇 (Vicki Zhao Wei), 杨幂 (Mini Yang Mi), 林心如 (Ruby Lin Xinru), 周迅 (Zhou Xun), 金莎 (Kym Jin Sha), 陳數 (Chen Shu) , 刘亦菲(Crystal Liu Yifei), 安以轩 (Ady An), 林依晨 (Ariel Lin Yi-Chen), 范冰冰 (Fan Bing Bing), Twins (钟欣桐 (鍾欣潼 Gillian Chung Yan Tung) (aka 阿嬌), 蔡卓妍 (Charlene Choi Cheuk-Yin) (aka 阿Sa), 鍾嘉欣 (Linda Chung), 佘詩曼 (Charmaine Sheh), 王菲 (Faye Wong), 陳慧琳 (Kelly Chen Wai-lam), 蔡依林 (Jolin Tsai Yi-Lin), 黄圣依 (Eva Huang Sheng Yi), 章子怡 (Zhang Ziyi), 陳喬恩 (Joe Chen Qiao En), 姚晨 (Yao Chen), 陳妍希 (Michelle Chen), 陳意涵 (Ivy Chen) 鄧紫棋 (Gloria Tang), S.H.E (Selina (任家萱), Hebe (田馥甄), Ella (陳嘉樺)), 舒淇 (Shu Qi), 王心凌 (Cyndi Wang Xin-ling) 唐嫣 (Tiffany Tang), Angelababy (杨颖/Angela Yeung), 林志玲 (Lin Chi-ling), 陳法拉 (Fala Chen), 徐熙媛 (Barbie Hsu), 安心亚 (Amber An Xinya), 马春瑞 (Mary Ma Chunrui), 周麗淇 (Niki Chow), 刘庭羽 (CiCi Liu Tingyu), 罗霖 (Candy Lo Lam), (Peter Ho, Julian Cheung, So Ji-sub, Alec Su, Leo Ku Kui Kei, Wallace Huo
Fabulous, the World Hero, Goddess, the Greatest Hero, Solarus, the Galaxy Star, Silkrus, the Touching Star, Forestrus, the Tree Star, Darkness, the Haunted Hero, Mythrus, the Sword Star, Ferocious, the Flaming Star, Skyprus, the Pilot Star, Archerus, the Flaming Hero, Angela Napoli's Infinity Bow, Ironmanius, the Strip Star, Terrarius, the Earth Star, Cropnalus, the Farming Star, Fishermanius, the Fishing Star, Angelius, the Heavenly Star, Leafimanius, the Leaf Star, Flamminus, the Fiery Star, Flippers, the Diving Star, Frostrus, the Magic Star, Leggings, the Racer Star, Taffyrus, the Sweetest Star, Strawcap, the Vision Star, Boostrus, the Rider Star, Defendrus, the Minion Star
GLaDOS, Wheatley, Cave Johnson, Turrets, Defective Turrets, Caroline, Personality Cores
Playable characters
Big Chicken, Unindentified Chicken Object, Mother Hen-ship, Sweater Chicken, Mysterious Ship, The Yolk-Star, Super Chicken, Giant Robotic Space Crab, Infinity Chickens, Planetary Egg City, The Alien Mothership, Apple Core, The Iron Chef, Egg Cannon, CK-01 Henterprise, Military Chicken, Party Chicken, Jellyfish Chick, The Henperor's Apprentice, Heart of Darkness, Ice Golem Chicken, Hen House, CK-02 Event Horizon
Weapons
Ion Blaster, Neutron Gun, Laser Cannon, Vulcan Chaingun, Lightning Fryer, Plasma Rifle, Utensil Poker, Boron Railgun, Photon Swarm, Positron Stream, Hypergun, Riddler, Corn Shotgun
Highscores
Revenge of the Yolk, Ultimate Omelette, Cluck of the Dark Side
Careers
Revenge of the Yolk, Cluck of the Dark Side
Deadliest Players
Revenge of the Yolk, Cluck of the Dark Side
Doraemon
Community content is available under
CC-BY-SA
unless otherwise noted.