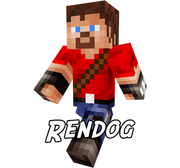 Homeplace: South Africa, London
Born: around late 20th century
Activity: Active
Years active: 1970s - present
Info
[
]
ReNDoG is an actor in the Minecraft and HermitCraft series.
Pack Timeline
[
]
Fido, Jock and Rorschach! S2E6
Nugget
Pearl
Tool Timeline
[
]
S2E1 - A Fang is Born!
S2E7 - Rambow!
S2E11 - Terra!
S2E87 - Claw's Performance Review!
Paw
Bark
S4E8 - Lost Terra, Fang, Rambo (Rambow), Claw, and Paw
S4E74 - Bark was melted in Lava.
S4E78 - Cyberus, the World Star!
S4E81 - My Sacrifice - Endergods made Argus, the Blade Star
S4E82 - The Molecity Lumberyard - ReNDoG saved "Argus, The Blade Star"
S4E91 - New Adventures Ahead - Ortheus, The Fire Star found.
S4E100 - Molehole Castle and Tools are now Guaranteed by Molemart Inc. Board of Directors.
S5E22 - Terra Reborn!
Rambow II
Letters to ReNDoG
[
]
June 8th, 2016: Banishment Order
[
]
For the attention of (ex) Mayor of Molecity, ReNDoG.
By order of a referendum by the citizens of Molecity, Molemart Inc. regrets to inform your tht, as per section 4.C of the Facepalm Prevention Act, you are banished from Molecity until further notice.
In an unanimous vote by the citizens of the Capital, Molemart Inc. deems you no longer fit to stand office for the following offenses:
Uacceptable number of facepalms during your four year term in office
Unacceptable number of unfinished projects
Losing all your gear in an ocean monument like a Noob
Still not have gone to the freaking End!!
You are herewidth banished to live as a Hermit beneath the bridges of the Jungle Railway Line until further notice.
We regretfully must also inform you that as per the6xth amendment of the Constitution of Molecity, you have the right to a free and fair trial before the people to prove you are once again fit to rule.
Once Molecity Council deems you ready for trial, you will be summoned forthwith.
Regretfully yours (not really),
Molemart Incorporated, Board of Directors.
November 19th, 2016: We need you!!
[
]
To former Mayor ReNDoG,
Word of your heroic adventures across the lands has spread far and wide!
Villages you have visited have sent messenger pigeons to the capital of Molecity speaking of your adventures and discovery of a Mesa biome.
Your bravery and kind protection of villages far away have had a profound... affect... on the citizens of Molecity, who have taken to getting busy getting busy day and night!
I have spoken to the Molecity Council and the Molemart board, and I have news!
It has been agreed that - based on your recent and incredible progress towards becoming less of a noob - you have been commissioned to construct a Nursery of Molecity to handle sudden influx of new citizens!
Make haste Sire!
~ Griswold, Blacksmith.
Favorite characters sequel
Disney Princesses
Elsa Frost of Northuldra (aka Queen Elsa Frost of Arendelle), Queen Anna Bjorgman of Arendelle, Rapunzel Fitzherbert, Cinderella/Mary Beth Ella Gertrude,

Sofia

, Snow White/Margaretha von Waldeck, Queen Ariel of Atlantica, Belle, Jasmine, Tiana, Moana Waialiki, Aurora, Fa Mulan, Princess Merida of DunBroch, Pocahontas
Snow White franchise
Snow White
Cinderella franchise
Queen Cinderella, Prince Charming
Sleeping Beauty franchise
Princess Aurora, Prince Phillip
Alice in Wonderland franchise

Alice Liddell

,

The Mad Hatter

,

Queen of Hearts

The Little Mermaid franchise
Queen Ariel of Atlantica, Prince Eric
Beauty and the Beast
Princess Belle
Aladdin
Princess Jasmine of Agrabah,

Prince Aladdin

Pocahontas franchise
Princess Pocahontas, John Rolfe
Mulan franchise
Princess Mulan,

Li Shang

The Princess and the Frog
Queen Tiana of Maldonia,

Prince Naveen of Maldonia

Tangled (the Series)
Queen Rapunzel Fitzherbert of Corona, Eugene Fitzherbert/Flynn Rider

Tangled: Ever After

Rapunzel's Tangled Adventure

Before Ever After

Sofia the First

series

Princess Sofia

,

Princess Amber

Brave
Princess Merida of DunBroch

Frozen

series
Queen Anna Bjorgman of Arendelle, Elsa Frost of Northuldra,

Kristoff Bjorgman

,

Prince Hans Westergaard

,

Olaf

, Sven
Moana
Chief Moana Waialiki of Montunui
Descendants
Original

Princess Cinderella

,

Chad Charming

, Princess Aurora, Princess Audrey, Princess (later Queen) Belle, Auradon, Ben, Lonnie, Fa Mulan,

Li Shang

Movies

The Incredibles

series

Elastigirl/Helen Parr

,

Mr. Incredible/Bob Parr

,

Violet Parr

,

Dash Parr

,

Jack-Jack Parr

,

Frozone

,

Voyd

,

Krushauer

,

Helectrix

Zootopia (疯狂动物城)

Lt. Judy Hopps,

Nick Wilde

,

Dr. Madge Honey Badger

,

Mrs. Dharma Armadillo

The Water Horse: Legend of the Deep

Angus MacMarrow

Ralph breaks the Internet

Shank

,

Yesss

,

Spamley

Monsters Inc.

Mike Wazowski

Wreck-it Ralph

Vanellope von Schweetz,

King Candy

, Taffyta Muttonfudge, Candlehead, Sergeant Tamora Jean Calhoun, Fix-it Felix, Jr, Rancis Fluggerbutter, Jubileena Bing-Bing, Crumbelina DiCaramello, Adorabeezle Winterpop, Gloyd Orangeboar, Minty Zaki, Minty Sakura, Snowanna Rainbeau, Swizzle Malarkey

Rise of the Guardians

Jack Frost

Mr. Peabody and Sherman

Mr. Peabody

,

Sherman

, Penny Peterson
Despicable Me series
Lucy Wilde-Gru/Lucy Gru (née Wilde),

Felonius Gru

,

Dr. Nefario

,

Eduardo "El Macho" Perez

,

Balthazar Bratt

Dru Gru

, Margo Gru, Edith Gru Agnes Gru,

Antonio Perez

Finding Nemo/Dory series

Dory

,

Nemo

Minions

Scarlet Overkill

,

Herb Overkill

Rio series

Blu

,

Jewel

,

Eva

,

Linda

, Tulio,

Nigel

,

Pedro

,

Nico

Epic

Mary Katherine

,

Queen Tara

, Nod, Ronin
Big Hero 6

Hiro Hamanda

,

Baymax

,

GoGo Tomago

,

Honey Lemon

Inside Out
Joy,

Riley Andersen

,

Sadness

, Disgust,

Anger

,

Riley Andersen

Toy Story
Bonnie Anderson,

Woody Pride

,

Buzz Lightyear

,

Jessie

,

Hamm

,

Mr. Potato Head

,

Mrs. Potato Head

,

Rex

,

Slinky Dog

,

Barbie

,

Ken

Home

Oh

, Gratuity "Tip" Tucci, Lucy Tucci
Sahara
Eva, Ajar, Gary
Spies in Disguise

Star Wars

series

Han Solo

,

Jedis

,

Skywalker

My Little Pony

franchise
Looney Tunes and Merrie Melodies

Bugs Bunny

,

Lola Bunny

,

Road Runner

,

Daddy Duck

,

Porky Pig

Gaming Originals
Fabulous Angela
Fabulous: Angela's Sweet Revenge
Angela Napoli, Jenny Garcia, Virginia Hills, Amber Jackson
Fabulous: Angela's Fashion Fever

Yum-mee

, Sally, Cindy, Peter, Truly, Eric, Victoria, Lori

Fabulous: Angela's High School Reunion

Emily O'Malley,

Janet Morgan

, Evelyn Napoli,

Edward Napoli

,

Fran Handford

Fabulous: Angela's Wedding Disaster

Broadcasting channels (going off after Jan 2020)
Fabulous Angela, Heart's Medicine, Delicious Emily, Forsaken Sword Reborn, Chicken Invaders/Minecraft Stars, Adorable Girlfriends/Of The Star, Tools of the Star
Delicious Emily
Delicious
Emily O'Malley

Delicious 2

Francois Truffaut

,

Antonio Napoli

Delicious: Emily's Tea Garden

Delicious: Emily's Taste of Fame

Delicious: Emily's Holiday Season

Angela Napoli,

Eduardo Napoli

, Evelyn Napoli

Delicious: Emily's Childhood Memories

Delicious: Emily's True Love

Patrick O'Malley, Jimmy,

Kate O'Malley

Delicious: Emily's Wonder Wedding

Brigid Duffy

, Reverend Baylor, Flannery, Gillon, Desmond, Ashling
Delicious: Emily's Honeymoon Cruise
Delicious: Emily's New Beginning

Paige O'Malley

Delicious: Emily's Home Sweet Home
Billy Beauford, Billy Beauford Jr., Aaron Mahoney, Marissa Mahoney, Enid Templeton, Earnest Templeton
Delicious: Emily's Hopes and Fears
Allison Heart
Delicious: Emily's Message in a Bottle
Delicious: Emily's Christmas Carol

Delicious: Emily's Miracle of Life

Delicious: Emily's Moms vs Dads

Delicious: Emily's Road Trip

Heart's Medicine

Heart's Medicine: Season One

Daniel Summers, Connor McCoy, Ruth Phelps, Allison Heart, John Summer, Chance Foley, Robin Fisher
Heart's Medicine: Time to Heal
Emily O'Malley, David Quinn, Jenny Pope, Joe Albright, Sophia Gomez, Michael Owen, Mason Hamilton, Lisa Asher

Heart's Medicine: Hospital Heat

(maternity/pregnancy ward)

Dr. Cares

Dr. Cares: Pet Rescue 911
Dr. Amy Cares, Emily O'Malley,

Paige O'Malley

,

Lisa Fox

,

Crystal Upton

Dr. Cares: Amy's Pet Clinic

Jenny Garcia

Dr. Cares: Family Practice

Alice Cares

,

Heather Fox

Sally's Salon

Sally's Salon: Beauty Secrets

Sally Milligan

,

Francois Truffaut

, Emily O'Malley, Patrick O'Malley,

Paige O'Malley

, Angela Napoli, Allison Heart, Evelyn Napoli,

Eduardo Napoli

, Jenny Garcia

Sally's Salon: Kiss and Make Up

Maggie's Movies

Maggie's Movies - Camera, Action

Maggie Welles

Maggie's Movies - Second Shot

Parker & Lane

Parker & Lane: Criminal Justice

Lily Parker

,

Victor Lane

Amber's Airline
Amber's Airline: High Hopes
Amber Hope
Amber's Airline: 7 Wonders
Hotel Ever After
Hotel Ever AFter: Ella's Wish

Ella Centola

Primrose Lake
Welcome to Primrose Lake

Jenny Carlyle

,

Jessica Carlyle

Sonic the Hedgehog

franchise

Amy Rose

,

Knuckles the Echidna

,

Miles "Tails" Prower

Treasure Run (doesn't exist)

Kimi

,

Nico

,

Hamish

,

Morgana

Celebrities
American

Jennifer Lopez

,

Auli'i Cravalho

,

Sofia Margarita Vergara

,

Ariel Winter Workman

,

Dove Cameron

,

Sofia Carson

,

Landry Bender

,

Lauren Taylor

,

Miranda Cosgrove

,

Dana Gaier

,

Sabrina Carpenter

,

Bailee Madison

,

Sarah Kate Silverman

,

Mindy Kaling

,

Amy Poehler

,

Joanna Stern

,

Katie Lowes

,

Carrie Underwood

,

Kristen Bell

,

Idina Menzel

,

Jennifer Aniston

,

Grace Atwood

,

Kristen Wiig

, Mandy Moore
China/Taiwan
趙薇 (Vicki Zhao Wei),

杨幂 (Mini Yang Mi)

, 林心如 (Ruby Lin Xinru), 周迅 (Zhou Xun), 金莎 (Kym Jin Sha),

陳數 (Chen Shu)

,

刘亦菲(Crystal Liu Yifei)

, 安以轩 (Ady An), 林依晨 (Ariel Lin Yi-Chen), 范冰冰 (Fan Bing Bing), Twins (钟欣桐 (鍾欣潼 Gillian Chung Yan Tung) (aka 阿嬌), 蔡卓妍 (Charlene Choi Cheuk-Yin) (aka 阿Sa),

鍾嘉欣 (Linda Chung)

,

佘詩曼 (Charmaine Sheh)

, 王菲 (Faye Wong), 陳慧琳 (Kelly Chen Wai-lam), 蔡依林 (Jolin Tsai Yi-Lin), 黄圣依 (Eva Huang Sheng Yi), 章子怡 (Zhang Ziyi), 陳喬恩 (Joe Chen Qiao En), 姚晨 (Yao Chen), 陳妍希 (Michelle Chen), 陳意涵 (Ivy Chen) 鄧紫棋 (Gloria Tang), S.H.E (Selina (

任家萱

), Hebe (

田馥甄

), Ella (

陳嘉樺

)),

舒淇 (Shu Qi)

, 王心凌 (Cyndi Wang Xin-ling)

唐嫣 (Tiffany Tang)

,

Angelababy (杨颖/Angela Yeung)

,

林志玲 (Lin Chi-ling)

,

陳法拉 (Fala Chen)

,

徐熙媛 (Barbie Hsu)

, 安心亚 (Amber An Xinya),

高圆圆/高圆圆 (Gao Yuanyuan)

,

马春瑞 (Mary Ma Chunrui)

,

周麗淇 (Niki Chow)

,

刘庭羽 (CiCi Liu Tingyu)

,

罗霖 (Candy Lo Lam)

Romance of the Three Kingdoms

Xiaoqiao/小喬

,

Daqiao/大喬

, Sun Ce/孫策, Zhou Yu/周瑜
Others

Angela Napoli's old tools corp.
Fabulous, the World Hero, Goddess, the Greatest Hero, Solarus, the Galaxy Star, Silkrus, the Touching Star, Forestrus, the Tree Star, Darkness, the Haunted Hero, Mythrus, the Sword Star, Ferocious, the Flaming Star, Skyprus, the Pilot Star,

Archerus, the Flaming Hero

,

Angela Napoli's Infinity Bow

, Ironmanius, the Strip Star, Terrarius, the Earth Star, Cropnalus, the Farming Star, Fishermanius, the Fishing Star, Angelius, the Heavenly Star, Leafimanius, the Leaf Star, Flamminus, the Fiery Star, Flippers, the Diving Star, Frostrus, the Magic Star, Leggings, the Racer Star, Taffyrus, the Sweetest Star, Strawcap, the Vision Star, Boostrus, the Rider Star, Defendrus, the Minion Star
Amy Cares' pawsitive corporation